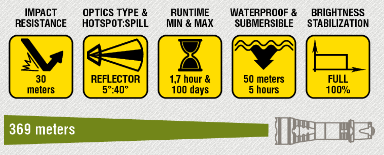 – Extreme beam distance up to 369 meters.
– Impressive brightness 660 LED lumens.
– Constant brightness even in -25ºC frost and with almost discharged batteries.
– Distinct hotspot and minimal spill guarantee directed aim illumination.
– Standard 1″ body diameter matches up with most weapon mounts.
– Reliable body, red/green/blue filters and original remote switches for comfortable Hunting and secure Military application.
– Guaranteed durability — stands up the recoil of any gun gauge and falling from 30 meters height
– The flashlight works for more than 5 hours at 50 meters depth.